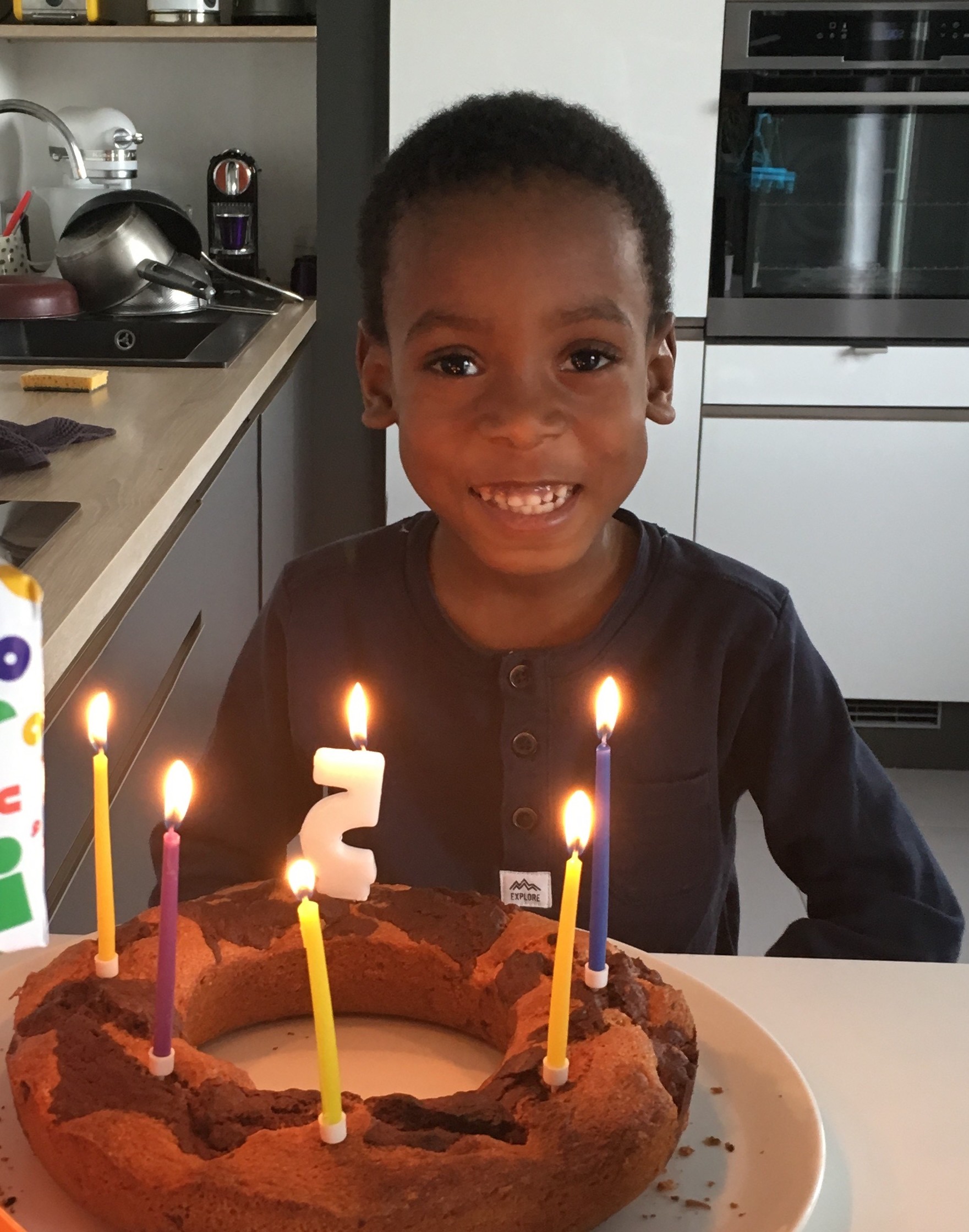 Paul's arrival in France
Our reunion
After a ten-month wait between our two trips, which was at times difficult (and we do realise that this was a reasonable wait, given current circumstances), it was our turn to fly to Haiti last 11th of December.
What an emotional time! Our reunion with our son, Paul Woodchel (4 and a half), was incredibly powerful emotionally. It was such a huge joy to return to his beautiful country and to see our many Haitians friends again. Our second trip was a fabulous (and our only) parenthesis, during which time simply stopped.
We came home to France on Thursday, 20th of December, to start a new life. As we write these lines, we have been together for three months.

Such joy….
We arrived in the excitement of Christmas festivities. Though we were looking forward to our first Christmas together, we had to manage the enthusiasm of our
families, who wanted to give our little Paul the best Christmas gifts ever. We wanted to make a point of avoiding the opulence of welcome gifts combined with Christmas one, which might have led Paul to believe that things would always be like this! We therefore chose to celebrate the holiday at home, in a smaller circle. Paul met his two big sisters, Anna (18), and Mélina (15), who had been waiting for him for such a long time. He blended in well. What a joy for our family to be together at long last!
We lived in a quiet bubble over the next few weeks, following Paul's rhythms and adaptation, wanting to relish every moment. Our routine involved games, walks, snuggles, discoveries, rituals, post-adoption appointments… our days sped by so fast.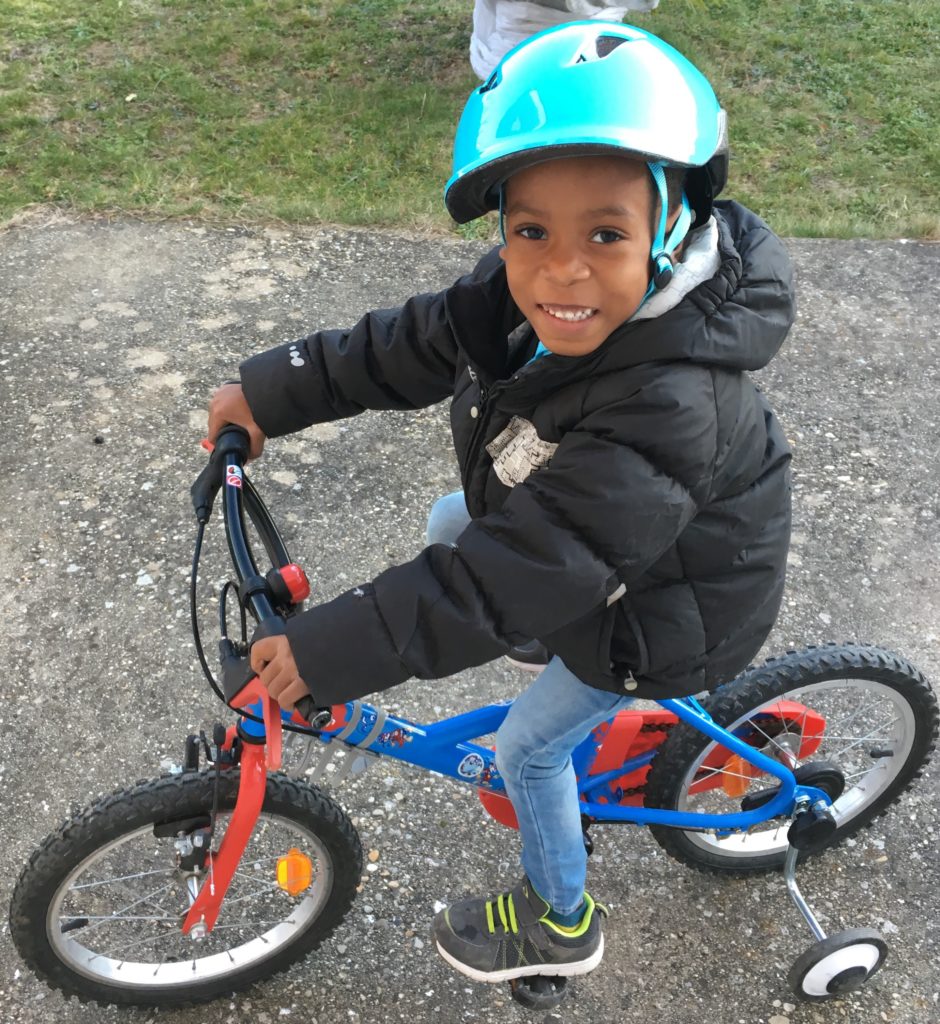 Discoveries
Paul was so pleased to discover his first bicycle, "Is it for me?" His eyes shone so brightly. He has since learned how to cycle, and hops onto it nearly every day to go to school.
We are enjoying all his first times and discoveries, and so many things that seem so natural to us but are new to him. He is curious about every corner of the house, touches absolutely everything, and even smells things, at times!
We answer his many questions, or at least those we understand. We had thought that language would be more of an obstacle, but from the very start, Paul could understand what we were saying. He speaks in his language, with a slight accent we find amusing, and knows exactly how to get his point across. We often rephrase his sentences, and his integration at school helps him make daily progress.
Personality
Since our reunion, we are so admiring of our son's enthusiasm and cheerful disposition. In fact, we were mostly surprised, since we had kept the image of a quiet little boy from our first trip, one who wasn't always smiley.
Paul loves to sing and dance, which makes us realise that nursery rhymes survive the years, but also cross continents, since we know almost all of them!
School, Food
After a three-week adaptation at school, he is like a fish in water amongst his schoolmates. His teacher is reassured; she must have expected a child who had never been to school and knew nothing about behaving well and discipline… yet quite the opposite is true.
Our most frequent questions since our return have been about how he is adapting to our climate and diet. It's true that last December was not exactly warm in France. Paul does not seem to have noticed the change, and regularly asks to wear his shorts in the morning.
He adapted quickly to our way of living, and did not hesitate to try snails and foie gras for Christmas. He eats nearly everything with a healthy appetite, and has a weakness for bananas and sausages, which he calls "hot dogs"!
We are overjoyed, despite also facing a few bumps along the way.
Sleeping
Sleeping was one of the biggest issues when we arrived. The fear of letting go, anxiety, nightmares… for nearly two months, falling asleep was tricky and our nights were interrupted by many nocturnal awakenings to reassure and snuggle him back to sleep. It was an exhausting period, which called for patience. Over time, things have improved, and even if our mornings start very early, now falling asleep and nights are calm.
Tantrums
Paul is able to deal with refusals better now, but we had to handle major temper tantrums. Though we had spotted a strong temperament on our first trip, his temporary outbursts continue to highlight the major change in his life, a verbal expression of his emotions, but also the way he probably protected himself at the nursery.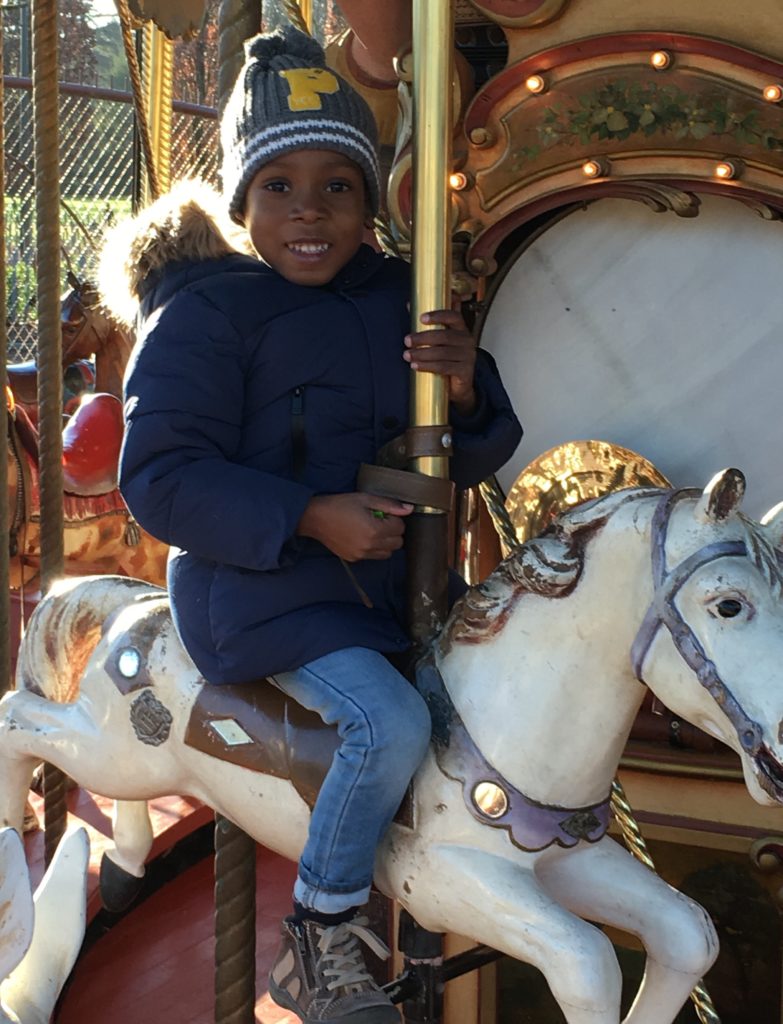 A need for safety
In addition to supporting Paul's integration, we had to manage change in our own lives. Becoming parents to our little guy is one of the greatest adventures ever. It is also an extremely potent emotional experience. With his massive need for safety, Paul is constantly demanding our attention, and it is hard for him to be apart from us (especially from his mum). Even closed doors are an issue… At other times, his wariness pushes him to test the bonds we are building: will we also abandon him? He mostly demands a lot of attention, and it isn't always easy to manage, especially since we have been used to being on our own and "free" for years. It was crucial for us to find strategies that would offer breathing space during this phase, hence the need to have two people who could be a tag team with him.
Being available
We can now say that our first two months required making ourselves tremendously available along with colossal patience. We tried to explain things to Paul, whether in the aftermath of a whim, a tantrum, or simply to set a programme for the next day. He needs frameworks, milestones, and constant reassurance.
Bit by bit, everything seems to be falling into place now. Time has done and will continue to do its work. Children really do have an incredible capacity to adapt.
We are still finding our bearings, but are certain that we have naturally accepted, tamed, and adopted one another.
Paul and his great-grandmother: